Have a look around, and if you don't find what you are looking for, let us know.
If you want to know more about GSU or about how you can join GSU, check out our e-pamphlet and learn even more here.
---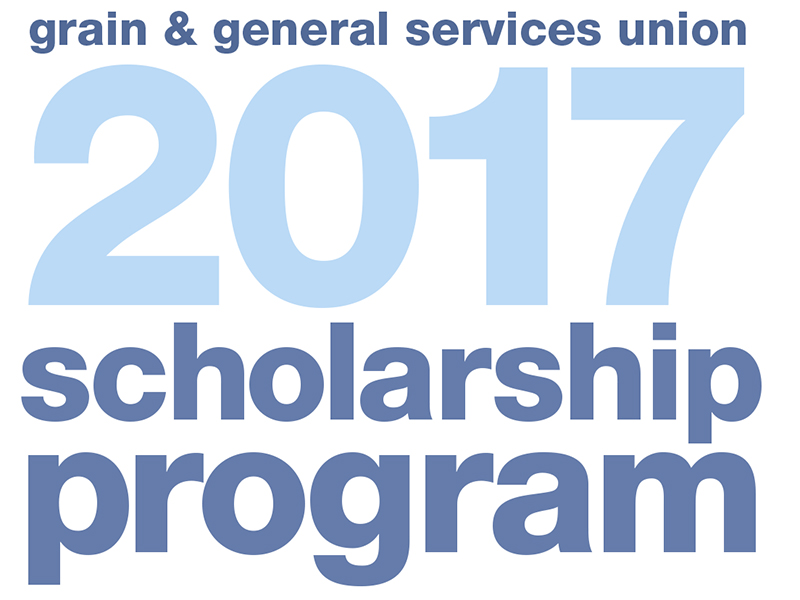 GSU is pleased to offer $2,000 scholarships to five students who demonstrate an ability and a passion to inspire positive change in their community.
Scholarships are available to all GSU members and their immediate families – including spouses – who are enrolled in a diploma, degree, or certificate program at a community college, university, trade school, or technical institute as a full-time student in any country. Deadline for receipt of applications is June 1, 2017.
Detailed information is available here.
---
GSU calendar highlights – April 17 to 21:
our Tuesday Members' Memo was emailed to GSU members on Tuesday
staff reps Dale Markling and Steve Torgerson were out of the office attending a Federal Mediation and Conciliation negotiation workshop this week
general secretary Hugh Wagner met with a GSU member and a company representative on Tuesday
staff rep Lawrence Maier met with a member on Wednesday
Hugh Wagner moved a grievance to the next step on Friday
Lawrence Maier will be in Chilliwack for the Local 9 (Hi-Pro Feeds) spring membership meeting on Saturday
Upcoming Events
Contact your GSU staff rep for more information about these events, GSU's expense policy, or to register.
SFL Young Workers' Conference & Youth Action Summit
April 28 & 29, 2017 ~ Ramada Hotel, Regina, SK
Learn more about the conference and summit here.
Prairie School for Union Women
June 11 – 15, 2017
Waskesiu Lake, SK
Learn more about the school and registration here.
SFL Summer Camp
August 27 – September 1, 2017
Camp Easter Seal ~ Manitou Lake
Register early! This popular camp fills up quickly!
More information is about the camp and how your camper could win a free camp registration fee is available here.
---

Our Tuesday Members' Memo (TMM) is sent by email to GSU members every Tuesday.
Check out past editions of our TMM here. If you don't receive our TMM by email, let us know and we will sign you up.
Our Tuesday Morning Memo is sent to GSU members on Tuesday mornings. You don't need to be a member to receive our TMM. If you would like a copy sent directly to your email, let us know and we will add you to the mailing list.
---
What are the benefits of a union?
The Association of Flight Attendants explain what unions do for union members.
________________________________________________________
The labour movement is not just about decent jobs. It's about a better life, for everyone.
Learn more at www.fairnessworks.ca
________________________________________________________