Learn more about us and our web page here. Have a look around and if you don't find what you are looking for, let us know.
If you want to know more about GSU or about how you can join GSU, call us or learn more here.
Deadline for applications is June 1, 2022.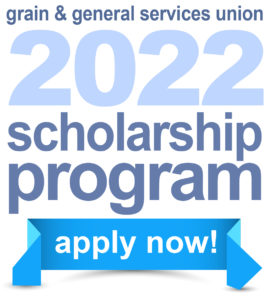 GSU is pleased to offer $2,000 scholarships to five students who demonstrate an ability and a passion to inspire positive change in their community. Learn more here.
GSU staff reps are on the road for member visitations. Learn more here.
If you have a preferred date or time you and your co-workers would like to meet with your GSU staff rep, reach out to us by email, phone or text and reserve a time and place that works for you.
Calendar highlights:
Local 6 (Wild West Steelhead) has a tentative settlement; membership meeting to be held May 18
Local 4 (Grain Millers) bargaining last held April 26; scheduled for May 22, 23 and 24
There are a number of education opportunities coming up and if you are interested in attending, we're interested in helping to make that happen. In fact, we'll sponsor up to three GSU members (or their children for the camp) to attend. Learn more about the events below and contact GSU if you are interested in attending.
Our Tuesday Members' Memo is sent to members on Tuesdays. If you know a co-worker who doesn't receive the TMM and would like to, have them call GSU toll-free at 1.866.522.6686 or send an email to gsu@gsu.ca
Questions? Contact a GSU staff rep at our Regina or Saskatoon offices.
Our Tuesday Members' Memo (TMM) is sent by email to GSU members every Tuesday.
Check out past editions of our TMM here. If you don't receive our TMM by email, let us know and we will sign you up.
Our Tuesday Morning Memo is sent to GSU members on Tuesday mornings. You don't need to be a member to receive our TMM. If you would like a copy sent directly to your email, let us know and we will add you to the mailing list.
What are the benefits of a union?
The Association of Flight Attendants explain what unions do for union members.
The labour movement is not just about decent jobs. It's about a
better life, for everyone