Have a look around, and if you don't find what you are looking for, let us know.
---
Calendar highlights: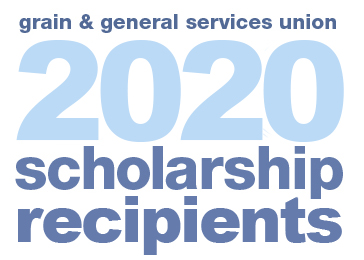 On behalf of the members, officers, and staff of Grain and General Services Union, we extend congratulations to our five GSU scholarship recipients:

Tyler Buenneke – Dependent Scholarship recipient
Son of Local 1 (Viterra) member Mark Buenneke

Dayne Patterson – Dependent Scholarship recipient

Son of Local 15 (Nutrien) member Robert Patterson

Alexis Wood – Dependent Scholarship recipient

Daughter of Local 2 (Viterra Office )member Sheila Tran

Ty Nikolejsin – Member Scholarship recipient

Local 15 (Nutrien) member

Marc Rapin – Member Scholarship recipient
Local 16 (Lake Country Co-op) summer student.

Additional information on our recipients will be available in an upcoming

Tuesday Members' Memo.
Local 15 (Nutrien) settlement vote is underway.
Get your ballot into the mail and on its way back to us at your earliest opportunity. The postal service is particularly busy processing ballots for the provincial and municipal elections, so don't wait until the last minute to send your ballot in.
Local 6 (Wild West Steelhead) bargaining took place Oct. 20 and will reconvene again on Oct. 26 in Lucky Lake, SK.
Local 5 (Western Producer) bargaining continued on Oct. 22. The two sides will meet again on Oct. 27 and 29.
Autumn 2020 membership meetings are underway.
Watch your email for your meeting notice.


In addition to usual union business, you will vote on constitutional amendments and whether you want to continue paying dues into the GSU Defense Fund.



Our Tuesday Members' Memo is sent to members on Tuesdays. If you know a co-worker who doesn't receive the TMM and would like to, have them call GSU toll-free at 1.866.522.6686 or send an email to gsu@gsu.ca
Questions? Contact a GSU staff rep at either our Regina or Saskatoon office.
---
Our Tuesday Members' Memo (TMM) is sent by email to GSU members every Tuesday.
Check out past editions of our TMM here.
If you don't receive our TMM by email, let us know and we will sign you up.
Our Tuesday Morning Memo is sent to GSU members on Tuesday mornings. You don't need to be a member to receive our TMM. If you would like a copy sent directly to your email, let us know and we will add you to the mailing list.
---
What are the benefits of a union?
The Association of Flight Attendants explain what unions do for union members.
________________________________________________________
The labour movement is not just about decent jobs. It's about a better life, for everyone.
Learn more at www.fairnessworks.ca
________________________________________________________